Why Is Video So Important?
Don't take our word for it. See what others are saying about the power of online video!
"New York Times Highlights Advantages Of Online Video For Small Business"
http://www.varvid.com/2011/03/new-york-times-highlights-advantages-of-online-video-for-small-businesses/
"27 Benefits of Online Video"
http://www.sitepoint.com/27-benefits-of-online-video/
"Why You Should Use Online Video Advertising For Business"
http://www.famousbloggers.net/online-video-advertising-business.html
"5 Benefits Of Online Video Marketing"
http://ezinearticles.com/?5-Benefits-Of-Online-Video-Marketing&id=858538
"B2B:The Benefits Of Online Video"
http://www.onlinevideo.net/2010/09/b2b-the-benefits-of-online-video/
"Does Online Video Sacrifice SEO Benefits?"
http://www.davidrisley.com/does-online-video-sacrifice-seo-benefits/
"Explore The Benefits Of Online Video Optimization"
http://www.industrialsearchenginemarketing.com/blog/2009/02/03/explore-the-benefits-of-online-video-optimization/
Our goal is to provide our clients with a marketing tool that can be used to promote their business online, provide a powerful and positive impact to their SEO (search engine optimization) and allow customers to meet the face behind their business. That's why we are excited to provide our clients with what is quickly becoming the most powerful tool on the internet, a video!
WHO:
You, the Local Expert and Small Business Owner
WHAT:
As a Guest Expert via Skype Video Interview
WHERE:
Online at WorldClassTV
WHEN:
At your convenience, from the comfort of your home or office
WHY:
Creating videos is great way to increase the potential of being found on searches for your products, company, industry, or services, at least on Google. Google now incorporates video results into its Web search, specifically those videos hosted on YouTube, which is an affiliate.
Let me ask you the following questions:
Did you know that having effective video on your website is the best way to

"be real"

for prospects?
Do you have a

YouTube Channel

for your business?
Do you know how many videos are viewed on YouTube every day?
If you are following any of the major marketing guru's these days, there is a consistent encouragement to return to
"being real"
. There is no better way to
"be real"
with your target customers than to share who you are in a video.
A video message is much more appreciated because it feels more personal to your target audience. Instead of reading words, they can see your facial expressions, smiles and other emotions you wish to convey. Plus, a video could make them feel as if they're talking to you.
You can also engage your customers by requesting them to send in their videos, such as a video of themselves talking about your service and the great experience they've had with you.
Be A Guest Expert on WorldClassTV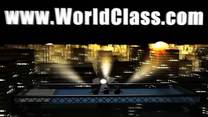 If you have been watching the news recently you've likely seen the increased use of Skype to remotely interview Guest Experts. If you have a laptop computer with a video camera, we can provide you with a great new Guest Expert Video personalized for your business. This video is produced at your convenience, no travel involved and done at a time convenient for your schedule.
30 minute to 50 minute "Infomercial"
TV Interviewers are charging $12,000 to $15,000
to produce this type of Guest Expert Interview and are then charging you thousands of dollars per month for local cable distribution. Our production costs are a fraction of this, and we will give you the source video for you to freely distribute through your social network. We will also host your video on our Internet Channel at no additional cost!
Link to WorldClassTV Show Opener
Your Skype Video Interview
We have developed a very convenient and cost-effective way to interactively interview you from the convenience of your home or office. The
Skype Video Interview Package
is available for a limited time
.
This promotional pricing is being done for $297 USD which includes the following:
30 Minute Personalized Interview
Questions Provided in Advance
Your graphics and logo included in the video
Call-to-Action Close with Your Contact Info
Royalty Free Background Music included
Review and Approval of Final Video
Full Length Video included
Short Promotional Video included
Source Video File for both is Yours.
Link to Order Your Skype Video Interview
Social Media Marketing is being greatly impacted by Social Video, and our unique
Skype Video Interview
lets you get the benefit of being interviewed as a "Guest Expert" on the WorldClassTV Social Media Show.
.